How to Fix a Broken Dental Implant Screw – A Case Report-Burbank Dentist Ramsey Amin, DDS Explains
How to Fix a Broken Dental Implant Screw – A Case Report-Burbank Dentist Ramsey Amin, DDS Explains
In the last 11 years of placing dental implants in Los Angeles I have only ever had to remove a broken screw on old implants placed 25-30 years ago. Dental implant abutment screws really don't break anymore!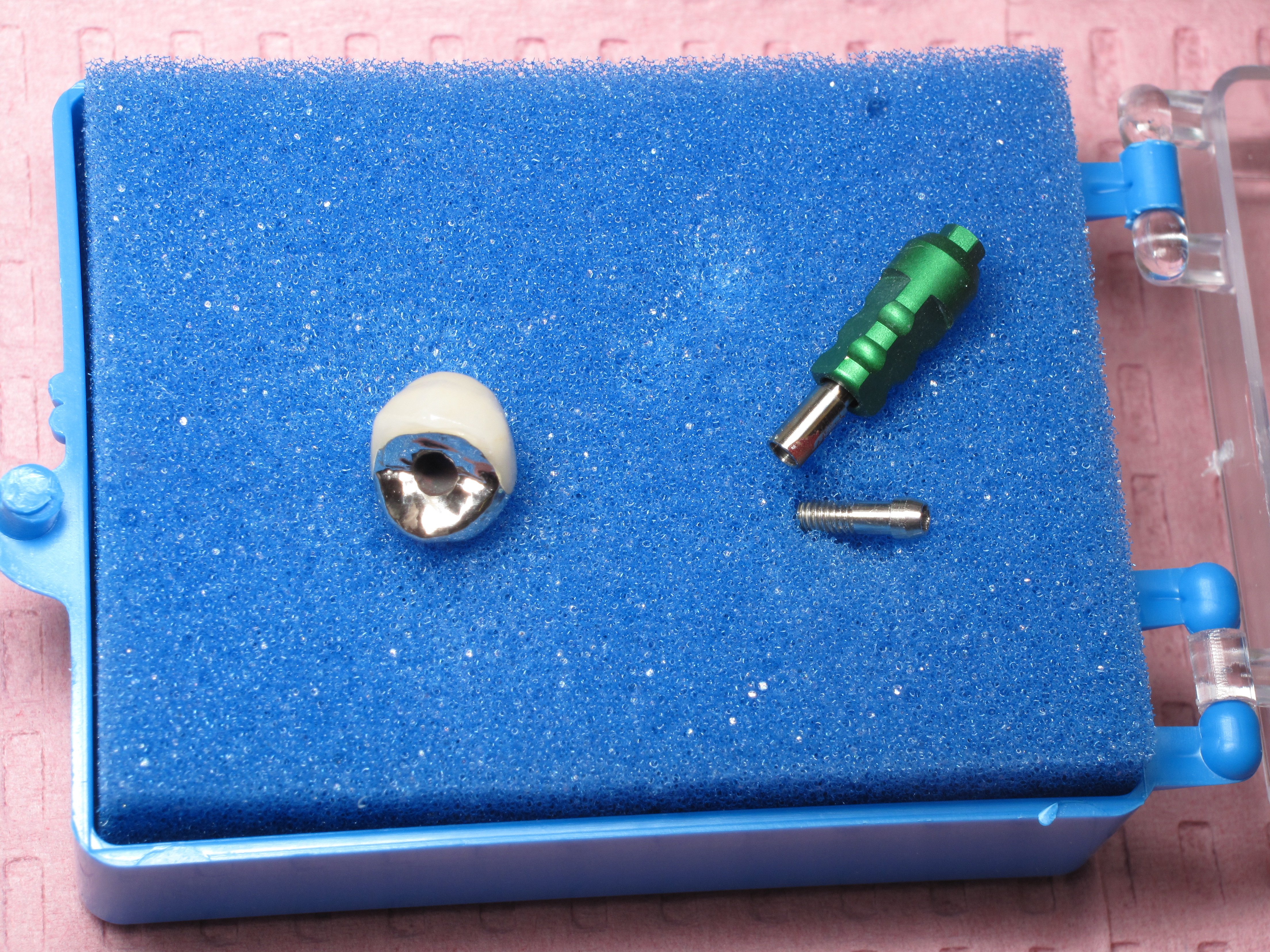 They used to break when cheap dental implants were used that had an "external hex" as opposed to an "internal connection." A dental implant is a screw within a screw. The implant itself looks like a screw and then the implant abutment usually connects to the implant by a screw. These screws are about 1.25mm with an allen hex on the end, and they are made of medical-grade titanium. It is the silver one in the picture. The green piece is not relevant.
Internal connection implants like I use take the force off the screw and place it on the connection or deeper in the implant. The main reason for a screw to loosen or break on a well- placed implant is excessive bite force on the implant. Keep in mind that your bite changes over time on your implant and that it can become excessive over time.
Other reasons a screw can loosen or break are: poor quality implant, rounding out the connection by excessive force of placement, poorly casted screw seat in a screw-retained crown, or an abutment that didn't get torqued properly.
The x-ray shows the broken screw still inside this implant. That tiny piece is not easy to get out as it needs to be backed out about seven revolutions. It is like trying to take out an eyeglass screw and the Phillips head is broken off.
Careful technique, patience, and a slow drill in reverse can grab the screw out. Most dentists that are involved in implants have never done this.
This case happens to be an implant held in by a screw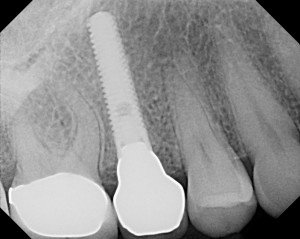 with a metal biting surface rather than a traditional white cemented crown. Many dentists often resort to extracting the entire implant over a broken screw…yikes!
Ramsey A. Amin, D.D.S.
Diplomate of the American Board of Oral
Implantology /Implant Dentistry
Fellow of the American Academy of Implant Dentistry
Burbank, California
Voted Best Dentist in Burbank -2006, 2008, 2010, 2011 www.burbankdentalimplants.com