Just Had A Tooth Extracted or Dental Implant and It Won't Stop Bleeding! Ramsey Amin DDS Reviews Quick, Easy, Cheap Solution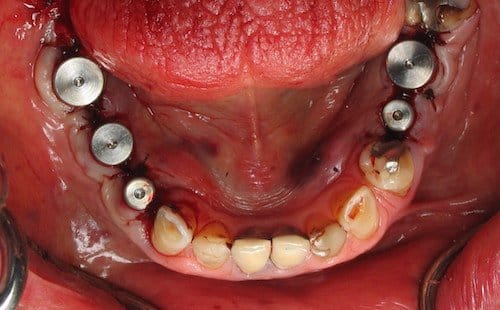 Just Had A Tooth Extracted or Dental Implant and It Won't Stop Bleeding! Ramsey Amin DDS Reviews Quick, Easy, Cheap Solution
Bleeding for most people it is not an issue after a routine dental extraction, bone graft or multiple dental implants. That being said, it does occur! When it does occur it can be pretty disconcerting, and can look like a whole lot of blood is coming out of your mouth.
It doesn't take but a few drops of blood to mix in with your saliva to make it look like the area is bleeding a lot.
Typically biting with firm, steady pressure on gauze given to you by your specialist, for 30-60 minutes should do the trick. You will need to repeat this several times usually for the first 3-5 hours until the bleeding goes away. The main thing is to bite with continuous steady pressure. Don't keep taking it in and out to look at it, to check if it is still bleeding or not. Just leave it in your mouth and it should clot on its own as long as you don't have any bleeding or metabolic disorders. Make sure the gauze is wet by dampening it under water and squeezing out the excess water.
Bleeding that has stopped should look like this:
  This picture was taken at the end of my surgery to place 5 implants and extract a wisdom tooth.
*********So let's say you've done all this and is still bleeding, now what!******
A common, cheap household item…a tea bag is a quick solution. A tea bag will help clot blood amazingly well. All you need to do is grab a regular Lipton or any black tea bag. It must have caffeine! It cannot be decaffeinated herbal tea and I would not suggest green tea. Just use standard black tea such as Lipton brand. Wet the bag, then bite on it as if it were gauze for at least 30 -60 minutes straight. Repeat this process a few times,
Tea contains a certain component call tannic acid that helps a clot blood! It works great! By doing this you may notice the gum turns black temporarily. This is normal.
What About Patients on Blood Thinners?
I even use this on patient that take blood thinners such such as Coumadin, Plavix and other types of anticoagulant blood thinners. Most of the time, I will leave my patients on their blood thinners when I do the dental implant surgery or extract a tooth. It is generally safer to leave you on blood thinners and deal with the bleeding than the risk of having a stroke or heart attack
Things to avoid in the first 24 hours are very hot foods. Hot foods and drinks will make you bleed. Icing the area will reduce swelling and reduce bleeding. I would suggest only drinking and eating cool, lukewarm foods for the first 24 hours.
These are all under the assumption that your blood clots normally and the surgical areas were sutured properly. Some gum grafts require that a gum graft is removed from your palate. This means that I will take some of the extra gum from the roof of your mouth and place it where the dental implant is.
The roof of the mouth tends to bleed a lot, so if you have had a gum grafting in conjunction with an dental implant, a bone graft, or tooth extraction, expect the palate to bleed longer.
Of course if nothing is working you may have a small vessel such as a vein that is bleeding that needs to be cauterized or dealt with in the office. Arteries are not common things to strike during dental implant or bone grafting procedures. That being said arteries do exist and they can be opened during dental surgical procedures. Knowing the anatomy is critical. A major artery hemorrhage can cause death. Anatomy does vary, but most of us are fortunately built the same way.
I tell my patients if they're concerned about any event or symptom after the surgery to call me right away. I make a point to give my patients my cell phone number and to call me at any time if there are questions or an unusual situation.
If you have any comments or concerns please leave them in the reply section below for the benefit of the thousands that read this block around the world.
**call your dentist that treated you if you have done all this and you are still bleeding**
Thank you,
Ramsey Amin DDS
Diplomate of the American Board of Oral Implantology
Fellow of the American Academy of Implant Dentistry