Losing Bone on My Dental Implant -Too Much Cement?
Losing Bone on My Dental Implant -Too Much Cement?
Too much cement used on a dental implant crown or bridge can easily cause bone loss around both new and old implants.  It sounds counterintuitive to purposely use less cement for an implant than you would for a crown on a natural tooth.  If left untreated, it can be one of the worst dental implant complications to occur and can cause implant failure.
Unfortunately this is a complication that I see here in my office in Burbank fairly routinely.
Here is how it works:
When a crown is cemented on to an implant, the cement can get beyond the gums and touch the bone. This is possible because the gum pocket around a tooth and the gum pocket around a dental implant are very different from a biologic standpoint. Your natural teeth have a tighter seal at the gum level.
There are different cements and bonding agents that I use for dental implants, but the bottom line is no matter what is used, the cement gets so thin, it can easily slip below the pocket.  It is near impossible for the dentist or the patient to see this.  A seasoned dental implant dentist understands this concept and should go to great lengths to prevent it.  It is based on the technique of the dentist, not the brand or type of cement.
I have developed a specialized technique for cement and bonding dental implant teeth over a decade ago.  Aluminum oxide blasting, dental implant analog cementation, and retraction cord are just a few of several techniques I use.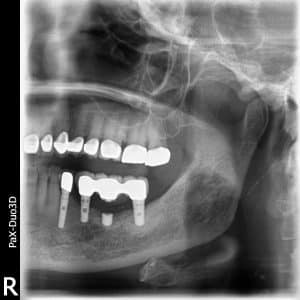 How do you know there is too much cement?
Shortly after having a dental implant with too much cement, the gum bleeds, there may be pain and/or infection, and the gum may recede. If this is not handled quickly, permanent bone loss may ensue.  The gum usually does not grow back.  Bone can be grafted back only in some situations.
What is the disadvantage of using special techniques to use less cement?
The main disadvantage is that the crown or bridge may come out. A crown  that comes out is easily replaced, while bone and gum loss from too much cement is not easy to fix.  It is worth it.
There are many other reasons why a dental implant can lose bone; too much cement is only one of the reasons.  Please read more of my blogs and watch other videos if you would like to learn more. Dental implants are still the absolute best way to replace one tooth or all of your teeth.
Ramsey A. Amin, D.D.S.
Diplomate of the American Board of Oral Implantology /Implant Dentistry
Fellow-American Academy of Implant Dentistry
Burbank, CA