Is It Normal? Extraction Bone Graft White Membrane Showing
Is It Normal? Extraction Bone Graft White Membrane Showing
A extraction socket bone graft for dental implants that has a non-dissolvable membrane should look like this while it is healing. This procedure is done in preparation for dental implants.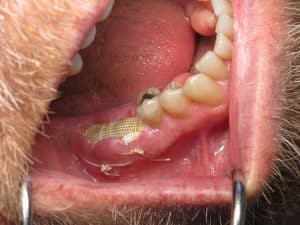 My patient called me to ask what is that white thing there? I told him that it is a non-dissolvable PTFE (polytetrafluoroethylene) membrane with PTFE stitches. It holds the bone in and prevents gum from growing into the socket.
This is intended to stay like this for about 3-6 weeks. The reason why I suggest you have your socket bone graft done this way is that the results are very predictable. This white membrane with good technique has a very predictable outcome. It is all about the technique not so much the product. Experience matters. The most important thing is that your socket is completely cleaned out and that the membrane is stable.
He just really wondered what this white piece was. He came back a few weeks later and I snipped the sutures and removed the membrane in about 60 seconds. This is typically very painless.
After removal of the membrane you should see pink new gum healing with possibly some surface bone particles if a particulate graft was used.
Here is the complete photo series from failing root canal x-ray, extraction, bone graft, membrane healing at 10 days, implant placement with L PRF platelet gel, final x-ray of two dental implants: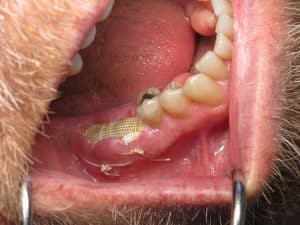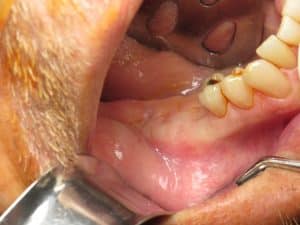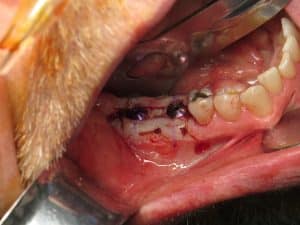 So it is important to clarify that on this patient that I extracted two bad root canal teeth that this membrane was purposely left exposed. Some membranes that I put in are under the gum and not intended to be exposed at all. The specific type of PTFE membrane does well exposed.
If you have had this done, do not chew on this area until everything is completely healed and the membrane is out. The bone typically takes 4-6 months to form.
Ramsey A. Amin, D.D.S.
Diplomate of the American Board of Oral Implantology /Implant Dentistry
Fellow-American Academy of Implant Dentistry