Bone Graft Membrane Sticking Out And Exposed

Bone Graft Membrane Sticking Out And Exposed
Do I need a membrane for my dental implant bone graft?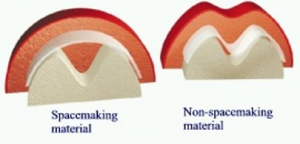 (Another great post on membranes.-Click here to see what they look like in the the mouth)
These are questions and comments I receive constantly on my blog and from patients that come to see me in Burbank, California.
My membrane fell out or is sticking out and exposed!
Purpose of Membrane For Bone Graft
A membrane is a barrier

Its purpose is to prevent gum from growing into the bone cavity. On many bone grafts for dental implants, a membrane is placed over the bone but under the gum. There are many different types and styles of membranes but they break down into basically 2 categories.
Dissolvable (resorbable) membranes
Non-dissolvable (non-resorbable) membranes
Both resorbable and non-resorbable membranes have their use. A resorbable membrane will dissolve on its own. Non-resorbable membranes typically need to be removed at some stage during your bone graft/dental implant procedure.

Resorbable membranes:
Most resorbable membranes used, as of 2019, are made of collagen. Collagen is a protein which you may have heard of in products such as shampoos and conditioners. It is heavily cross-linked and makes an excellent barrier. Most commercially available collagen membranes are 15 x 20mm in dimension and look like a flat, white piece of cardboard.
They are trimmed with surgical scissors by a dental implant specialist and typically covered over bone. Most collagen membranes are made from bovine Achilles tendon or porcine origin, which basically translates into cow and pig. Some resorbable membranes dissolve very quickly in just days; these are typically called plugs, while other resorbable membranes can last approximately 4 months. Most resorbable membranes are not tacked in place with titanium fixation tacks. Some are even pericardium from heart tissue!
The other types of natural resorbable membrane would be one made from your own blood! Platelet rich fibrin or also known as PRF, can be used to make membranes from your own platelets. Basically 1-6 test tubes of blood is drawn at the time that I start your IV. Those test tubes are spun in a machine called a centrifuge, which separates out the layers of your blood. It also concentrates your blood to be used for other platelet rich preparations called PRP and PDGF.
PRF can be used as a resorbable membrane as it tends to last 7-14 days. It is stretched out and made thin so that it can be sutured. It becomes a durable, kind of slimy consistency which can protect a bone graft. PRF membranes can be used in addition to resorbable or non-dissolvable membranes for dental implant bone grafting. PRP/PRF can speed up your healing and reduce pain and complications.
There are also synthetic membranes that dissolve, such as Vicryl, which are not as commonly used.
Non-resorbable membranes:
Most non-resorbable membranes can be made of titanium and dPTFE (Dense polytetrafluoroethylene). They are materials that form a barrier that cannot be dissolved by your saliva. Some non-resorbable membranes, such as PTFE, are often combined with bone tacks in order to hold the membrane stable and cover the grafted bone.
One benefit of a non-dissolvable membrane– they are very predictable in generating bone. The main downside– it has to be removed at a second procedure. Sometimes that second procedure may involve just plucking out the membrane off the top of your socket graft or it may be more involved, such as completely reopening the gum, removing the bone tacks, and then removing the membrane. Typically when membrane removal involves removing tacks, the dental implants are placed at the same time that the membrane is removed.
PTFE has been used for over 30 years in cardiovascular applications such as suture, vascular grafts, and heart valves. PTFE is bioinert and does not cause inflammation.
Titanium reinforced membranes, or titanium mesh, is best at holding a space. It works like a tent and prevents collapsing of your gums to build new volume and mass underneath.
Sometimes the membrane on a socket graft will be removed after 3-6 weeks or may even fall out if it is a dPTFE style membrane. This is okay, generally. The purpose was to allow your gum to grow underneath it and cover over the bone graft as the membrane protects it. Once the membrane falls out or is removed from a socket bone graft, the bone still needs to heal for usually another 4-6 months before dental implant placement.
Is It Okay That My Membrane is Showing??
It depends!! If the intention of your membrane was to be exposed from the beginning, then it is okay that it is exposed right now. If it was the intention for your gum to remain covering over the membrane for 4 -9 months, then you are likely having a minor complication called a dehiscence where the gum becomes exposed and naturally exposes the membrane and bone graft. A membrane that is sticking out is not always a problem. The more critical the bone graft is, the more critical it is that the tissue remained closed and the membrane is not exposed at any time. Critical bone grafts would be onlay block bone graft, lateral window sinus bone grafts, nerve repositioning, and advanced guided bone regeneration (GBR).
A standard socket bone graft (where an outer wall is not missing) would not be considered a critical bone graft; so leaving a membrane exposed is okay. If an outer wall is missing, this would be considered a critical size defect.
It is important to maintain proper follow-up with your dentist throughout the procedure. It is likely that you will be on an antibiotic, such as amoxicillin or clindamycin, and a mouth rinse called chlorhexidine gluconate.
Keep in mind there are literally hundreds, even thousands of different membrane manufacturers each claiming to be better than one another. Yes, there are better manufacturers than others, but ultimately the surgical technique, training, judgment, and expertise of your dental implant specialist is going to be the most critical factor in the success of your bone graft…choose wisely!!!!!!
You can use all of the best materials in the world, including growth factors such as PRP/PRF/PDGF/BMP, but in the hands of an inexperienced surgeon, results may not be that good. Of course your ability to heal is of paramount importance. Smoking never helps. Alcohol does not help either… Both of these slow down the healing of bone and greatly increase your chance of complications.
Wearing a removable, temporary "flipper" over a bone graft is to be done with extreme caution. Pressure from a removable temporary will cause the bone graft and membrane to move and almost always results in failure. Be sure you and your dentist speak about the use of a temporary and how to create space underneath it so there is no chance that it can apply pressure to the bone graft. Some bone graft membrane reconstructions are so critical and so large that the temporary cannot be worn at all, but that is the exception rather than the rule.
Ramsey A. Amin, D.D.S.
Diplomate of the American Board of Oral Implantology /Implant Dentistry
Fellow-American Academy of Implant Dentistry
Burbank, California