"Sterile" Dental/Bone Graft Implant Surgery… Is It Possible?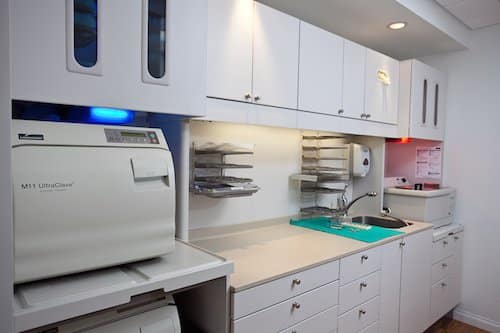 "Sterile" Dental/Bone Graft Implant Surgery… Is It Possible?
UPDATE: This 2014 post is especially important in the age of COVID-19!!! READ THIS
Dental implant surgery should be done in an "aseptic technique" which is a close modification of sterile technique. This means that your dental implant or bone graft surgery is not just being done with the typical dental bib held by the alligator clip chain!!!
Implant Surgery Needs To Be Clean
Dental implants and bone grafts can be contaminated very easily which can lead to infection, implant failure and bigger things such as osteomyelitis. Some people are more prone to infection than others so you really have to be careful.
I treat patients with complex medical histories and patient's that are 90 years old. Safety comes first! Besides some patients being more prone to infections, some procedures are more prone to infections. This is just another reason to keep the surgery as sterile and clean as possible.
A dental bib is not enough for dental implant/bone graft surgery.
Your jawbone is essentially sterile (pending no pre-existing infection) until the gums are opened and it becomes exposed to the bacteria of your mouth and other bacteria of the environment.
Aseptic technique is used in medical procedures and microbiology to keep processes and procedures free of cross-contamination.
The mouth is naturally full of bacteria, so sterility is impossible. The goal is to reduce the bacteria in your mouth from contaminating the implant or bone graft as it is being placed.
Even though we all take showers every morning, our skin has certain bacteria called Staphylococcus, which is sometimes just called Staph. You may be wearing clothes to your dental implant surgery appointment that you didn't realize you wore the other day when you were gardening. Bacteria on your clothes and/or skin can be inadvertently brought into your mouth. The point is not to allow cross-contamination into your bone or bone graft and keep as sterile as possible.
Precautionary Measures Against Dental Implant Infection
In my office these are just some of the things that I do for every procedure whether it be one single implant or 12 dental implants and bilateral sinus bone grafting.
Your mouth will be pre-rinsed with chlorhexidine for 30 seconds immediately before the dental implant/bone graft procedure. I also go one step further and will wipe down the immediate surgical site with Betadine/iodine to decontaminate any natural plaque you may have that can be introduced into your bone. This means that we take a Betadine swab into your mouth and scrub the gums and teeth.
Every dental implant and bone graft procedure in my office is done in an extremely aseptic environment using at least 2 dental assistants per procedure. There is no way to have a super clean surgery with only one dental assistant.
Textile drapes that have been autoclaved through a sterilizer will cover you to about your thighs and a comfortable head wrap will leave just your face exposed, covering your hair. Your eyes will not be covered unless you prefer them to be. The photographs on this post show many of these concepts during live procedures.
To prevent cross-contamination with the dental light, it will be covered with a sterilized foil barrier.
My dental assistants and I will gown in special sterilized gowns and hats. We also wear sterilized gloves, not just regular gloves out-of-the-box. These are crucially important in maintaining a 99% success rate. It helps to prevent you from having infections which will, in turn, reduce pain, swelling, and help you heal up faster. We do not touch anything that is outside of the sterile area. We can't even scratch our head if we get an itch!
"I was trained in a hospital setting in an operating room. This process is second nature to my team and I. Before placing our sterilized gloves we go through a surgical scrub of our hands, also using a special scrubber embedded with chlorhexidine surgical soap."
Your facial skin will be wiped down with either chlorhexidine or Betadine.
One of my dental assistants maintains the field of sterility while the other can hand items to me from outside the field. When she opens a dental implant package, bone graft material, sutures, membranes, etc. they are in two packages. She opens the outer non-sterile package and drops the sterile item onto our sterile surgical instrument set up without touching anything. This way nothing ever touched the item that will be going to your body.
Our suctions and drill tubings are covered in sterilized disposable plastic sleeves. Even though these items are wiped down thoroughly between each patient, I prefer complete sterility.
Of course dental instruments are placed in a cassette and sterilized after several pre-sterilization cycles.
Yes, I know it sounds and looks like brain surgery, but it is all for your benefit
Many of my patients have IV sedation anesthesia so it also functions to keep them warm while they are sleeping through the procedure. The wires for the ECG, pulse oximeter, carbon dioxide sensor and blood pressure cuff are also under the surgical drapes. This prevents cross-contamination between dental equipment.
Sterile/aseptic technique is more of a way of life in my office than it is a procedure… It is just what we do. It is not clumsy or foreign.
Feel free to ask questions related to this blog post article.
Ramsey A. Amin, D.D.S.
Diplomate of the American Board of Oral Implantology /Implant Dentistry
Fellow-American Academy of Implant Dentistry
Burbank, California