What is Peri-implantitis and What Do I Do About It? – Bone Loss Around Dental Implants ~Burbank Dentist, Ramsey Amin Reviews
What is Peri-implantitis and What Do I Do About It? – Bone Loss Around Dental Implants ~Burbank Dentist, Ramsey Amin Reviews
One of the long-term risks associated with dental implants is a condition called Peri-implantitis.
Peri-implantitis Definition: Infectious disease that causes inflammation of the surrounding gum and bone of an already integrated dental implant, leading to the loss of supporting bone.
These two x-rays show implants with bone loss.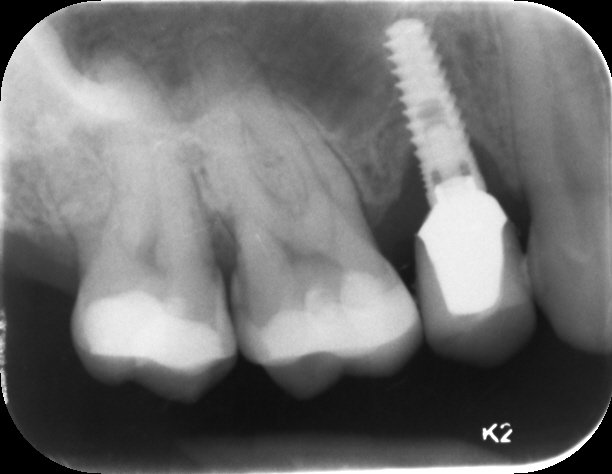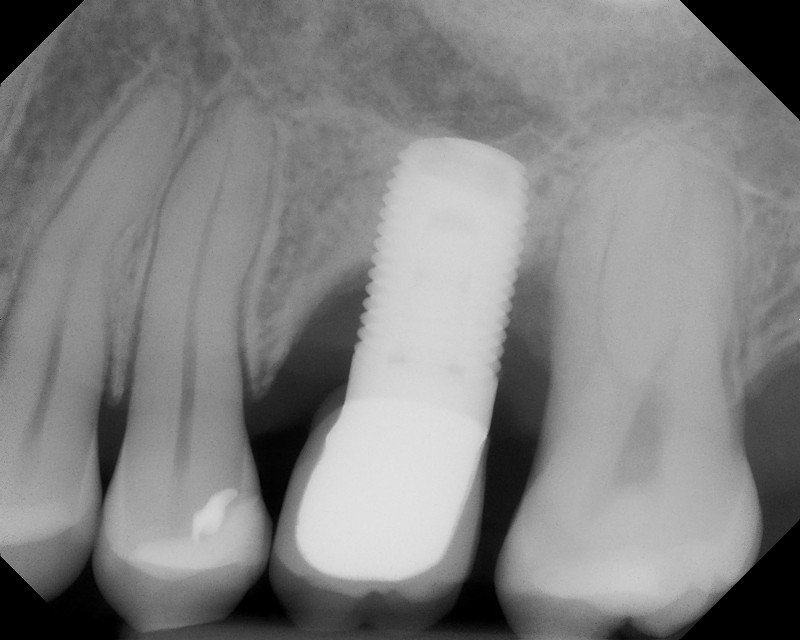 Bone Loss Around Dental Implants
Bone, for a variety of reasons, is lost around the dental implant.  This condition generally occurs without the patient being aware of it. There are many factors on why this can happen.  Some dental implants on some patients will develop bone loss which can happen very early after having the crown put on the implant or it can happen many years down the road. Dental implants are fantastic, but nothing is without risks. If your dentist tells you they are 100% successful and have no problems ever, I would suggest seeking another opinion.
This condition is difficult to treat. Fortunately, most patients never develop this.
Most patients are unaware that they have bone loss around the dental implant. Peri-implantitis generally progresses in a painless fashion. Once it is established, you may begin to develop symptoms.
There are several risk factors. Smoking definitely causes constriction of blood vessels which leads to bone loss. Medical issues such as diabetes, osteoporosis and poor immune systems are more at risk for developing bone loss around dental implants. If you have had gum disease in the past, you are more at risk. Your home care is critical… Brushing twice a day for 3 to 5 minutes with an electric toothbrush, flossing once a day and using adjuncts such as a rubber tip need to happen every single day… Forever!!  Grinding your teeth is another risk factor for dental implant bone loss.
Of course there are surgical factors that cause peri-implantitis to happen:
Soft bone, lack of tightness when the dental implant is placed, bone that was grafted in a vertical fashion, implant size too big, overheated bone, and many others.
 Signs of peri-implantitis
gum pockets deepen
pus comes out from the implants and gums
bleeding at the gumline
appearance – gum is red, or slightly purplish bluish, tartar/plaque build up
progressive loss of supporting bone on x-rays
metal thread exposure
It is not always symptomatic and typically there is no pain. Some of my patients have complained of dull aches or tenderness when they brush or touch the area. You can also develop a bad taste if pus has developed. If it is very severe, the glands in your neck may become swollen and you may even feel the dental implants being loose.
Who Should Correct Your Dental Implants?
I treat many patients with this problem.  Unfortunately many of these patients had implants done with inexperienced dentists or large supercenter practices. Correction of dental implants with problems should be performed by a dentist who routinely performs this procedure.
The first thing I check for is to make sure the crown or bridge was made properly. The x-ray tells so much. Sometimes a 3-D scanning is necessary to see the inside surface. Extra cement is often the cause of peri-implantitis. The cement oozes beyond the abutment and gets down below the gum near the bone. The cement becomes an irritant. There is often good reason to make crowns held in by screws rather than cement in some cases. The technique of cementation and choice of cement used is a big factor on whether or not this will become an issue for you.  You would be surprised to know that most novice dental implant dentists are not aware of proper cement choices although they have no ill intentions just lack experience and knowledge.
Occasionally I will find a loose abutment screw which may not have been torqued properly or it broke. That can be caused by someone with a really heavy bite. Patients with heavy bites need to have their crowns designed to protect the implants. How the crown is made is ultra critical for the longevity of the dental implant in the bone. So many patients view this step as minor, but it is major. Some low-budget implants have poorly designed screws or have micro motion when you chew.
Sometimes we find gum disease on other teeth just nearby which can stimulate peri-implantitis to start on the implant. Generally some type of exploratory surgery needs to be done to find out the cause and do a simultaneous bone graft in an attempt to save the implant. Not all implants that have peri-implantitis can be saved.
Normal Implant Bone x-ray (Implant by Dr. Ramsey Amin Burbank, California)
Treatment
The long-term goals are to stop the progression of bone loss and maintain your dental implants! Generally speaking the area will need to be cleaned thoroughly using dental instruments. Oftentimes antibiotics will be prescribed and special antibacterials will be applied to the implants itself such as iodine or tetracycline.
Most peri-implantitis dental implants require surgery and bone grafting. This means that your gums have to be opened and the area has to be detoxified. All of the bacteria must be killed in order to have bone regrafted onto the implants. I will definitely place you on antibiotic after this procedure.
The physiology and the type of bone that is used is critical. I would also suggest using your body's own helpful blood products such as PRF/ PRP.
Time will tell if the procedure works. There are no guarantees on grafting around implants that have pre-existing bone loss. It is far more successful if the bone missing is in the shape of a moat rather than an entire wall missing.
Over the last 14 years of placing implants, I have developed many techniques to avoid this from occurring. When it does occur I have also developed techniques that seem to be more predictable. I have successfully regenerated bone around many implants over the last 14 years in practice. We have to be realistic when an implant has had too much bone loss though. The success rate can be as low as 35 to 50%. Some severe cases of peri-implantitis are better off removing the implant and placing a new one.
Just because one implant may have failed or develop bone loss, it doesn't mean the second one will.
Please feel free to comment or ask questions below that are relevant to this post.
Floss!
Ramsey A. Amin, D.D.S.
Diplomate of the American Board of Oral Implantology /Implant Dentistry
Fellow-American Academy of Implant Dentistry