The Process of "Permanent" Fixed Dental Implant Teeth -5 Steps to Replacing All Your Teeth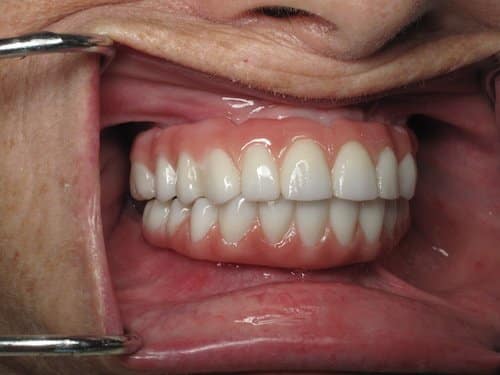 The Process of "Permanent" Fixed Dental Implant Teeth -5 Steps to Replacing All Your Teeth
Having fixed "permanent" dental implant teeth is a process. This process can vary greatly from as short as one day and can extend up to two years. The average is a few months. Here is a 5 step summary of the process.
"Permanent" is in quotations because nothing is truly permanent. Everything can be removed if needed and
all
dental work (crowns, fillings, root canals) wears out and needs to be replaced.
I have written on numerous occasions about the wide array of differences you should ask about when having your teeth replaced with fixed bridges vs. overdentures. (Is it an All on Four economy plastic bridge replacement or is it fixed porcelain on a normal amount of dental implants?)
Why does it take so long…or short? How much bone you have is the number one factor in determining your unique process. If you don't have enough bone, then the bone will need to be rebuilt with a bone graft. If you have plenty of bone, there are many options and the process is much faster. You may have been told you don't have enough bone.
If you are replacing ALL the teeth in one jaw, I may be able to help you avoid 'major' bone grafts. (Major bone grafts are lateral wall sinus bone grafts, onlay block bone grafts, large segment guided bone regeneration, and nerve repositioning. I routinely perform these grafts when needed and they are not to be avoided)
There truly isn't ever a one day process because you have 1-5 evaluation and preliminary records appointments before your actual surgery if you want this to turn out right. Beware of what you see on TV and hear on the radio.
1.
Initial Visit:
This is where I begin to understand your needs and wants. Your medical and dental histories are crucially important. Digital photographs, intra-oral, panoramic and/or
3D x-rays
are taken in my office. Molds of your mouth may also be made. I will study your situation carefully between your first and second appointment.
---
2. Treatment Consult: This is where I review your options, risks, benefits, timeline and financial commitments. This is a very important appointment for you to digest all the information. This is usually 30 minutes to an hour.
---
3. Surgery or Additional information: If your situation allows, your next appointment may be surgery. This may involve extractions, bone grafting, and/or placing dental implants. If more molds or temporary fixed teeth or dentures are needed 2-4 measurement and analysis appointments may be needed. If you are having this process done with me, you will ALWAYS have temporary teeth! You will not be without teeth during the process!
---
4.
Making the teeth:
After the steps of the surgery/extractions//bone grafting are done it is time to start making the final teeth! You and I will choose the specifics of how you want your teeth to look. I will coach you on color, how much teeth/gum you should show when you smile, the length/shape and about 1000 other details. This process includes digital and real molds, facial analyses and bite measurements. Many of the
Prettau dental implant bridges
I make involve a digitized version of fixed temporaries to allow you to test drive the real teeth before they are made.
---
5.
Deliver the final teeth:
The installation or delivery of the final teeth usually takes 1-3 hours. The teeth may be screwed or cemented into place over
custom
or prefabricated abutments. Your bite must be balanced carefully. Post-operative x-rays will be taken. I will train you on how to maintain your teeth and what to look out for. It is crucially important that you know your part in the long-term maintenance. I want to see your teeth last!
That is the overall process to replace all your teeth. Keep in mind it will vary greatly in your unique situation. You will be seen for several follow up visits. I personally perform every step of the process from start to finish.
Having one implant dentist in charge, in my opinion, gives you the best result. You don't have to worry about any sub-contractors!
Ramsey A. Amin, D.D.S.
Diplomate of the American Board of Oral Implantology / Implant Dentistry
Fellow-American Academy of Implant Dentistry