All on 4/6 Prettau Fixed Implant Bridge Lip and Facial Support Considerations
All on 4/6 Prettau Fixed Implant Bridge Lip and Facial Support Considerations
If you lose all of your teeth, your jawbone and eventually your face will shrink. This cannot be stopped even with bone grafts. It naturally happens because of atrophy (lack of use) of both muscle and bone of the jaws. I have discussed this bone loss in many previous blog and web articles.
If you're having an all on 4/6/8 etc dental implant Prettau style bridge, this is an important consideration for facial aesthetics. Being able to support your face means that the lips, the base of the nose and cheeks can be positioned correctly so that you don't have a caved in, wrinkled appearance.
Many dentists believe this cannot be done with fixed dental implant bridges and offer their patients snap-on overdentures. I have found there to be a lack of uniform knowledge of regular general dentists on this topic mostly because most dentists do not do this procedure routinely.
This issue is more substantial when discussing the upper jaw. A lack of facial/lip support also makes the nose appear much larger than it really is.
In the past (prior to 2005), I too treated some patients with upper overdentures to try to make facial esthetics the best possible but you still end up with a plastic denture! As of about 12 years ago I have developed a technique for predictably re-creating lip support and face aesthetics eliminating the need for upper overdentures. Lip and facial support are also determined by what we call vertical dimension of occlusion "VDO."
This is best seen in side profile but can also be seen straight on. It is often measured from the tip of the nose to the tip of the chin. If you lose all of your teeth, that measurement from the tip of the nose to the tip of the chin becomes smaller giving you a premature aged appearance and many wrinkles.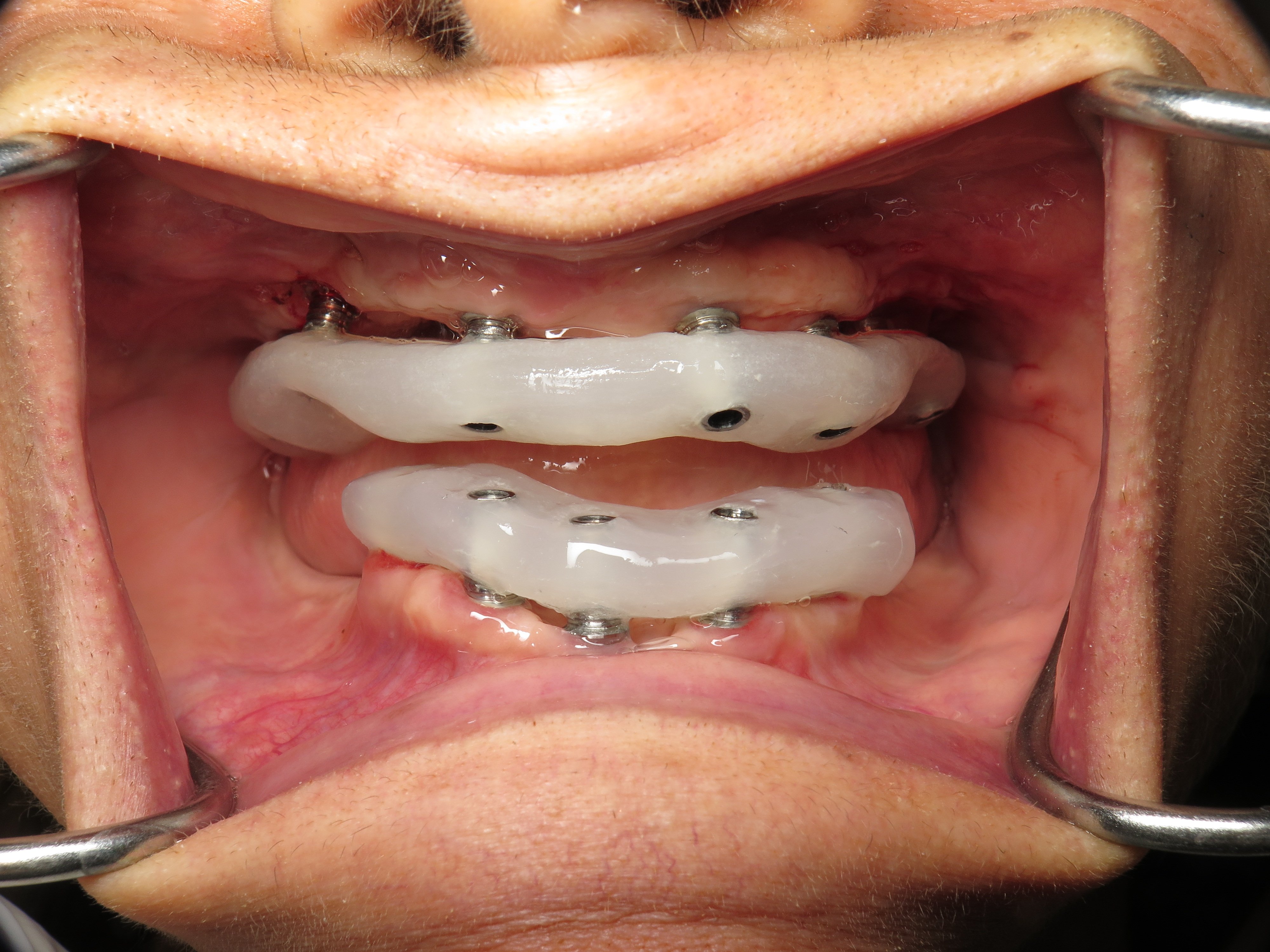 ---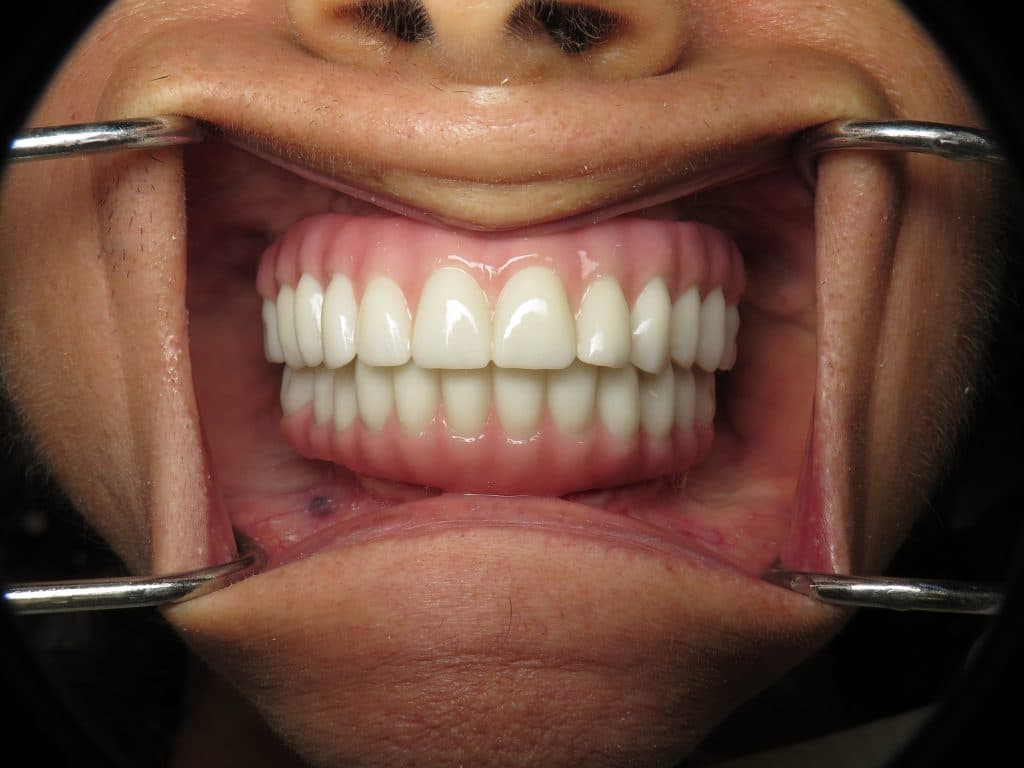 ---
Where many dentists believe this can't be done is in the cleansability of the final Prettau dental implant restoration. I have been advocating and teaching a technique that levels the bone and gum to create a flat or convex surface UNDER the bridge so that the bridge can both be cleansable and aesthetic at the same time.
The fact that Prettau monolithic zirconia is nonporous also helps tremendously. It is not material of the bridge that makes the lip support but rather the surgical and prosthetic planning of the case from the very beginning.
Every single patient I treat has a very particular surgical modification of the gum or bone anatomy to be able to *create* this scenario right from day one. This is done by me at the first surgery. If it is not considered and created from the very first surgery/insertion of implants, it is very difficult to recover and correct later.
I also feel it is very important to "test" every patient with a fixed temporary PMMA bridge that allows them to test facial aesthetics, bite, lip support, color, tooth shape and size, etc. etc. I usually allow the patient to test the prototype bridges for somewhere between 3 weeks to 3 months. They look great too!
I often touchup this gum created contour with a carbon dioxide laser at the beginning of the tooth making process.
I also see that over time once I create a solid biting plane of occlusion, the atrophied, flabby muscles begin to come back over the first year or 2 tightening up the face.
There are some exceptions to creating ideal lip support and it almost always occurs in a patient that has either a severe overbite or severe underbite. When this occurs, sometimes a slight concavity needs to be created in a very certain position that can be digitally designed to be VERY cleansable with a water pick. This will lead to long term crestal bone and gum stability.
This patient that photographed has 6 implants on top and 5 implants on bottom and upper lower fixed Prettau bridges. It is my passion to deliver teeth that are long-lasting, cleansable, well engineered and beautiful. It really changes lives.
Ramsey A. Amin, D.D.S.
Diplomate of the American Board of Oral Implantology /Implant Dentistry
Fellow-American Academy of Implant Dentistry