ZYGOMATIC DENTAL IMPLANTS VS. SINUS LIFT BONE GRAFT REVIEW
ZYGOMATIC DENTAL IMPLANTS VS. SINUS LIFT BONE GRAFT REVIEW
Which one is better??? Zygomatic dental implants or a sinus lift bone graft? I would like to start by saying that both are excellent options. Both have long-term data to support their use and I do both procedures very routinely.Often I will recommend one over the other or give you the option to choose what is right for you. There are times where both options are not good!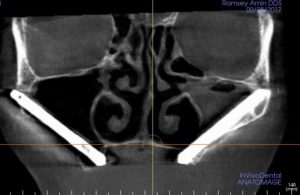 Both of these procedures only apply to the upper jaw. Specifically they apply to the back teeth of the upper jaw. In the back part of the upper jaw where your molars are, that bone is remarkably soft and it is generally hollow. It is hollow because the maxillary sinus drapes down into this area. The combination of hollow and soft does not make for strong and secure dental implants. Something has to be done to augment it so that back teeth implants can be placed.I often tell patient that if your sinuses are hollow on 3-D scan and we need back teeth implants than either way I need to go into your sinus somehow. Either it has to be grafted in the sinus to rebuild bone …then… have dental implants or we have to go *through* the sinus (or very close to it) to place zygomatic implants in the cheekbone.
Unless there is an option to bypass/avoid the sinus with a tilted dental implant concept, then there is no way to avoid the sinus. I routinely use pterygoid implants as well to give additional support.
Please keep in mind that the distance from the cheekbone to the sinus is very similar. It is not that much further up. The outer wall of the sinus is the zygomatic cheek bone of the skull. They are connected!
To properly restore your mouth you must have molars. Without back teeth, everything in the front will fail prematurely and nothing will work right. The bite must be level and stable.
The zygomatic implant is typically only used when you are replacing a full set of upper teeth. This allows all of the teeth to be connected in an arch form called "cross arch splinting". This gives strength and rigidity to the system where each implant is strengthened by another implant.
A sinus lift bone graft can be used when you are replacing just one side of your teeth and not the other. It can also be used to replace both sides of your back upper molars and bicuspids.
Sometimes I only use one zygomatic implant per side and sometimes I will use two per side (quad zygoma). Sometimes I will only put zygomatic implant on the left or on the right and bypass the sinus on the opposite side. It is not necessary for implants to be placed in a symmetrical nature because our bodies are not symmetrical.
The following table describes some of the differences and similarities between the two:
| | |
| --- | --- |
| Sinus lift | Zygomatic Dental Implant |
| Typically takes 8-18 months to complete | Completed in a single visit – 1 day |
| Requires bone graft from human, cow, self or synthetic. | Requires no bone graft |
| Not possible to have fixed teeth on surgery day | Fixed temporaries on same day of surgery |
| Must have clear sinuses to perform | Must have clear sinuses to perform |
| Pain and bruising –usually mild | Pain and bruising –usually mild |
| In office procedure under IV sedation | In office procedure under IV sedation |
| Antibiotics required | Antibiotics required |
| Can be used to anchor teeth on one side or both sides, keeping some existing teeth | Can only be used when all upper teeth are being replaced |
| Implants are regular length | Implants are extended length |
| Patient must wait for healing | You can leave with immediate loaded functioning fixed teeth on the same day of the surgery. |
| Very risky to use a temporary denture over the top while it is healing – best if no denture is worn for 1-4 weeks or not at all | Upper denture is eliminated on the day of surgery for most patients. |
| No option for immediate teeth | Immediate teeth very likely |
| Sinus Lift cost – generally more than zygomatic because of numerous appointments and graft materials | Zygomatic generally less costly than sinus lift |
| Numerous appointments | Single appointment |
| Bridge can be made thinner on inside | The final bridge on the tongue side of the molars sometimes needs to be made a bit thicker |
| Must be done in the sinus | Zygomatic implant can be placed partially in and partially out of the sinus |
| Multiple implants necessary per side | Generally only one implant needed per side |
| 3-D scan necessary for diagnosis | 3-D scan necessary for diagnosis |
| Can be used for All on 4, 5,6,7,8 etc | Can be used for All on 4, 5,6,7,8 etc |
| Existing bone is very soft | Zygomatic cheek bone is generally harder |
| Procedure dates back to 1974 | Procedure dates back to 1988 |
| Can be used to replace one tooth | Cannot be used to replace one tooth. |
---
Both zygomatic dental implants and sinus lifts bone grafts should not be done if your sinus is not healthy or it is plugged shut. The sinus is supposed to drain into your nose and other sinuses. If that area is blocked the procedure should be delayed until that blockage is cleared. Sometimes clearing that blockage only requires some nasal sprays/steroids and other times and requires surgery by an ear nose and throat doctor. Many smokers have thickened sinus membranes that are not healthy.
The zygomatic dental implant really opens the door for having immediate teeth on the upper jaw on the same day of removal of your existing teeth (PRETTAU dental implant bridge is one example) This is a big deal for those patients that I am having to remove all of their teeth both upper and lower on the same day and provide them with new teeth and implants within 24 hours. For a lot of people wearing a denture for a year is not an option.
Whether you are in the public eye, a stay-at-home mom, retired or a busy professional many people cannot tolerate a denture and need same day teeth. The sinus lifts graft does not allow for this to happen. Occasionally I have a patient that is okay wearing no teeth at all for 6-18 months and that really allows all options to be carried out. There is no age restriction for either procedure although I would suggest you are 20 or older.
Both options are very stable long-term and neither option has a high risk for chronic sinus issues after the procedure.
Both of these procedures should be completed by a very skilled and experienced implant surgeon. I would not consider these procedures for a novice! They require a very in-depth knowledge of the anatomy. Offices that do these procedures should do them under a hospital-like, aseptic surgical operatory to prevent infections.
I hope the detailed descriptions help you to make an informed decision.
Your comments are welcome.
Ramsey A. Amin, D.D.S.
Diplomate of the American Board of Oral Implantology /Implant Dentistry
Fellow-American Academy of Implant Dentistry