What is a Pterygoid Dental Implant?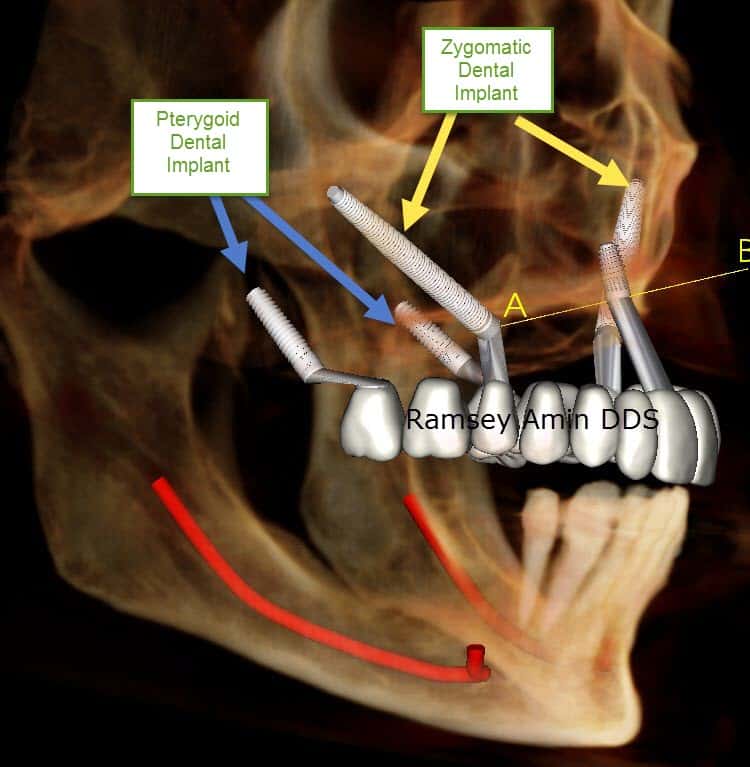 What is a Pterygoid Dental Implant?
Pterygoid implants are a specialty type of implant that is placed in the upper molar region. They require special training to place because there are inherent risks but there can be tremendous advantage for a patient that is missing all of their upper teeth or losing all of their upper teeth!!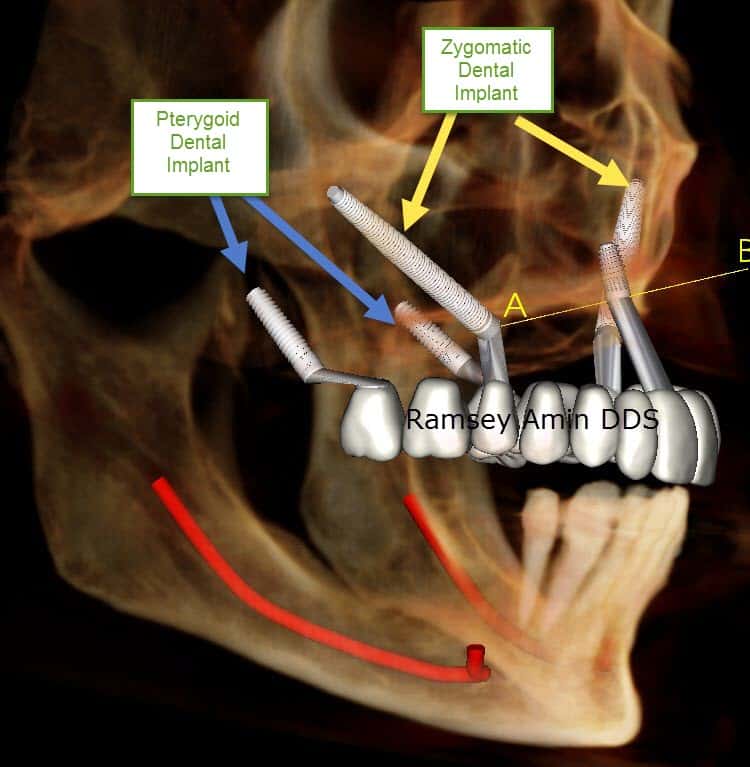 WHERE DOES A PTERYGOID IMPLANT GO?
The pterygoid implant goes where your wisdom teeth on the upper jaw used to be. It comes in today special angle through some of the softer bone and then the apex anchors into stronger bone.
I only use these implants when I have to. This is typically a scenario where the patient has a super soft upper jaw. I often use them in combination with zygomatic implants.
A pterygoid implant cannot stand alone. It must be anchored to other implants in order for it to be usable. If not strong enough by itself but is very useful when you have implants on either side of an upper jaw that has no teeth. Often times patients that have pterygoid implants often have zygomatic implants and other alternatives such as bone leveling to finally get to a Prettau dental implant zirconia bridge
The surgery requires specialty training and an **extremely good knowledge*** of the anatomy. This is not for everyone!
Why place a pterygoid implant?
The reason for this is it can help you have teeth on the same day or next day of the extractions!! Immediate upper fixed teeth!! Some patient's zygomatic bones are so thin that I can only place 1 zygomatic on each side even though I would get more stability if I placed a quad zygomatic with 2 on each side.
Basically the pterygoid implant allows immediate loading and gets you teeth faster which is a big advantage for taking pressure off of the gums a while the temporary bridge is healing
A disadvantage of a pterygoid implant is the teeth go really far back on the upper. They almost reach into the wisdom teeth areas. They also require specialized multiunit abutments in order to correct the 30-40° angle. There is also a risk of bleeding because there are some significant network of arteries and veins nearby.
I always do a workup in 3 dimension in order to fully understand your anatomy. Also the implants are placed sometimes partially in and partially out of the sinuses similar to some of the zygomatic implants that I place.
All in all the pterygoid implant is very useful. It is an extended length of implant typically 16-25 mm and can help you when there is literally no bone available at all.
Ramsey A. Amin, D.D.S.
Diplomate of the American Board of Oral Implantology /Implant Dentistry
Fellow-American Academy of Implant Dentistry
Burbank, CA
818-846-3203