Are Zygomatic and Pterygoid Dental Implants Near the Eye?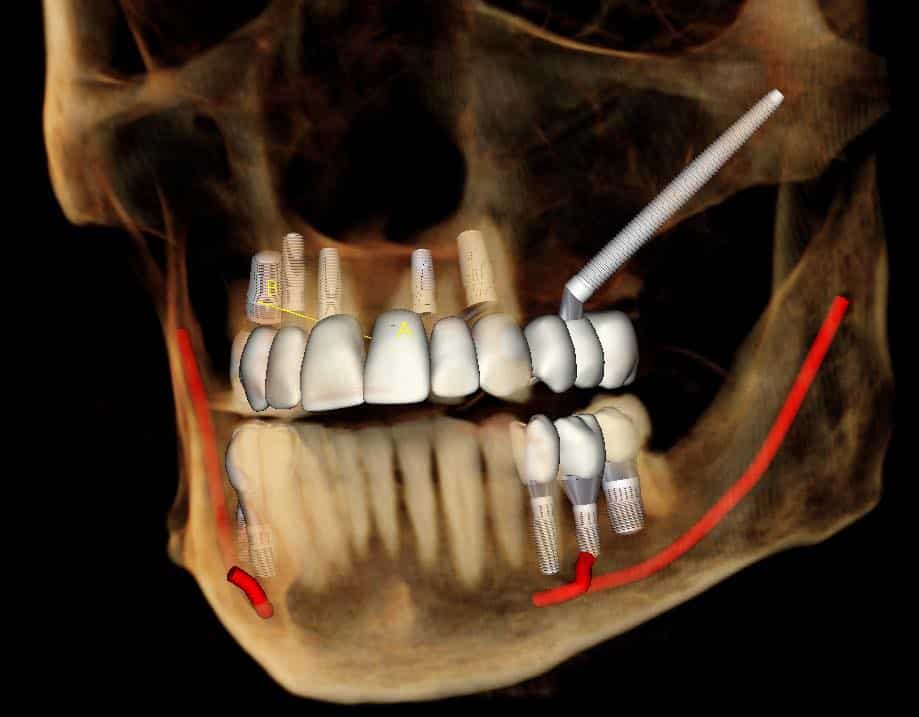 Are Zygomatic and Pterygoid Dental Implants Near the Eye?
Zygomatic and pterygoid implants can look a little bit intimidating. They are quite long and go into different parts of the skull to anchor full mouth dental implants.
Is the Zygomatic Close to The Eye?
Often I am asked how close to the eye is a zygomatic implant? This short video should help explain in under 2 minutes.
Remember that these types of implants are very specialized but extremely useful. It allows me to treat the most severe of bone loss with immediate teeth within 24 hours that are nonremovable. They also have a high degree of success in most patients and can avoid a sinus lift and prolonged treatment.
Ramsey A. Amin, D.D.S.
Diplomate of the American Board of Oral Implantology /Implant Dentistry
Fellow-American Academy of Implant Dentistry
Burbank, CA
818-846-3203
Video Transcript:
This is a video showing the planning of a zygomatic and pterygoid implant specifically on this side. What I wanted to be able to show you is the relationship of this to the face. People think that this is very close to the eyes, but it's really not. If you keep a look where the eyeball is right over there, it's quite a distance away as I pull this back. You can kind of get an idea for actually how low the implant is. Remember, the eye is way up into here. So even on some of these x-rays it looks scary. That's the bone around the orbit, we call it bone around the eye. So this is a pterygoid implant. It goes way back here where the wisdom tooth used to go. The implant for the zygomatic implant goes into the cheekbone.
This patient had already placed implants into this side on the right side, there's a zygomatic. There's also one engaging into the floor of the nose. That's also called a nasal lift on some patients, but I wanted to give you an idea of actually where these things go in relationship to our face. That kind of gives you an idea. So the eye is way up high over here. Okay. Way, way, way far away. Although you got to be careful, there are some connections to it. Overall it's a very safe procedure. This is the pterygoid implant. This is the zygomatic implant. To me, they go hand in hand. I often place him on the same patient to help with same day teeth.
Obviously it requires special training. This is not something that somebody would learn over a weekend course or not have adequate training. This is also procedure that should be done routinely, not something that a dentist just does every once in a while. This is very much part of my practice. So hope you enjoyed this. It's just a quick look at what this is all about and where these things go and kind of the crazy angulation. Thanks for listening.