Gap Space Under My Implant Bridge
Gap Space Under My Implant Bridge
A gap can develop under a dental implant bridge or even a bridge with natural teeth. The focus of this post will be on implant bridges especially immediate "all on X" / "all on 4"  type procedures for the full arch replacement.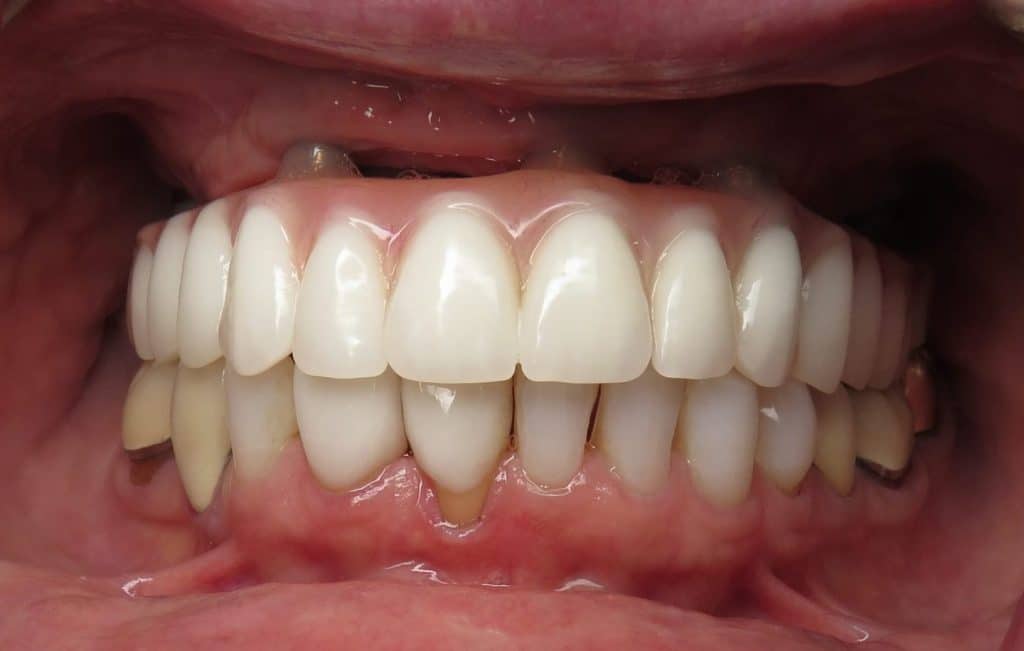 This most commonly occurs on an ALL ON 4/full mouth zirconia or acrylic bridge within the first month after the immediate temporary is placed.
Why is there is a gap under my bridge?
I am going under the assumption that you had your teeth extracted, implants placed and a bridge made on the same day or by the next day. With this procedure which I do very commonly in my practice when the bridges inserted there is some swelling of the gums making that space really tight. Typically what happens over the course of 2-8 weeks after the procedure is the swelling comes down around the gums and it shrinks back to normal size leaving a gap.
A common complaint is that it is difficult to speak. With this space under the dental implant full arch bridge is hard to say sounds that start with S&H because too much airflow goes through.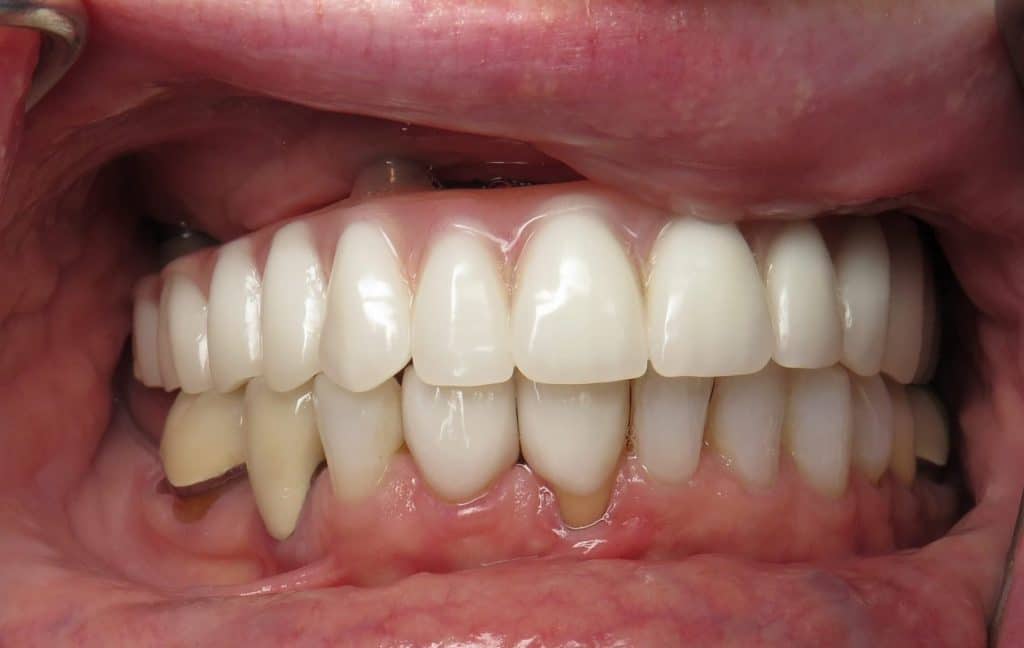 A small gap would be considered normal and its best to just let it heal because it will likely increase.
Space Under Bridge Affects Speech
It is more of a problem on the upper jaw because the space affects your speech. On the lower jaw I sometimes encourage to design to have somewhat of a "high water" design so that it is easy to clean. A gap or space under the lower jaw does not usually create any speech issues at all as long as the tissue surface of the bridge is convex rather than concave
A very short-term remedy would be to place orthodontic wax into that space with your dentist permission during the time that it is healing. In my practice once I convert the patient over to a prototype PMMA provisional temporary that is closed up so that we can work out all of the details before we go to the final zirconia bridge on the implants.
Cleaning under the bridge for an all on 4 procedure with or without zygomatics/pterygoids is pretty much the same. A water pick and a toothbrush as long as the bridges designed well to be very easily cleansed. This is probably one of the biggest issues with these type of bridges over time and honestly has got a lot to do with how the surgery was done and whether or not multiunit abutments are used with proper margin height
I know this sounds a bit technical but bottom line is the space can be closed quite easily in temporary settings but if you have your final bridge it can be very difficult if is made out of zirconia to close that space although it is possible. Is more simple with the acrylic type of bridges because plastic can be bonded with additional acrylic
Comments?  Questions?  Stay Safe During Covid 19!
Ramsey A. Amin, D.D.S.
Diplomate of the American Board of Oral Implantology /Implant Dentistry
Fellow-American Academy of Implant Dentistry
Burbank, California