Big Bone Graft For Molars
Big Bone Graft For Molars
This patient presented to my office in Burbank, CA  after seeing numerous "dental implant dentists." He was told that implants are not possible by three different providers!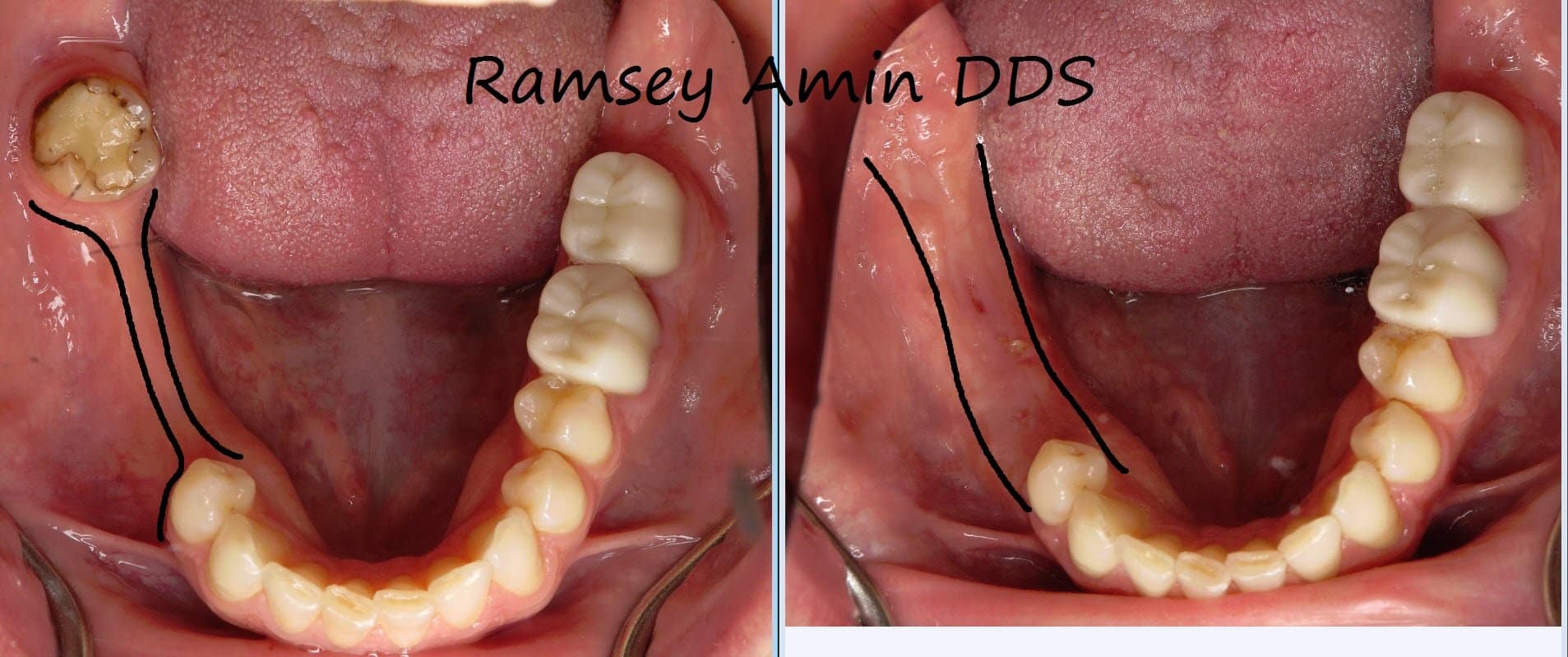 Bone Loss Needs Large Graft
The preoperative image shows that he has very skinny bone in the area where the teeth were lost many years ago. The bone went through a process of atrophy… It just melted away because it's not being used. In order to have implants properly placed in your jaw the bone has to be rebuilt. Not only that, the gum tissue needs to be rebuilt as well.
Bone Expanding Graft
On this particular patient I did a bone expansion graft. This is a technique sensitive procedure that some dentists call "bone manipulation." In the course of two visits I was able to "bend" his bone outward. This leaves an intentional  trough or gap in the center where additional bone from a human tissue donor is packed in between the outer plate and the inner bone plate of the bone. The area is covered with dense polytetrafluoroethylene membrane and stitched closed tightly.  The membrane is removed a few weeks later.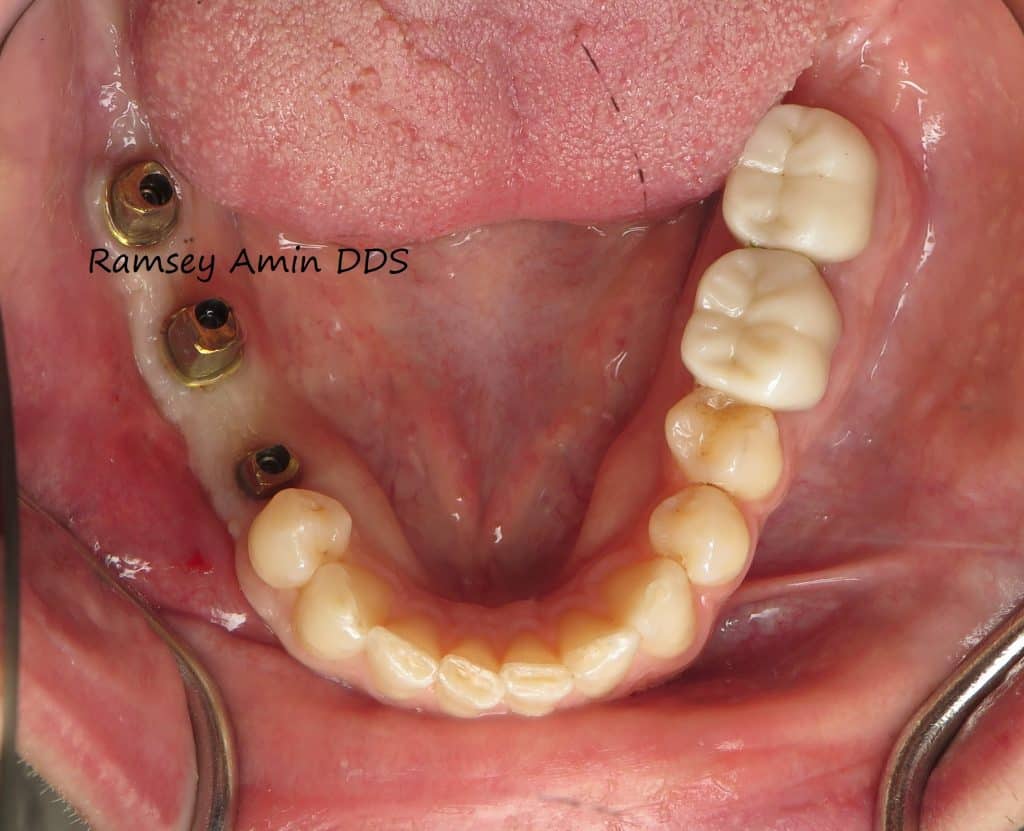 What is unique about this procedure is I can gain bone and gum at the same time without having to harvest gum from the roof of the mouth. Sometimes the bone graft and implants can be done simultaneously but on this case I decided to only do the bone graft and I placed the implants about four months later. This is called "staging." Rome was not built in a day!
Big Bone Graft Options
There are numerous ways to build bone when there is major loss. This is just one of them. A short list would include:
1. Bone expansion/manipulation -discussed above
2. Segmental osteotomy — moving a section of your jaw with the gum still attached
3. GBR – guided bone regeneration… Bone particles placed under a membrane
4. block bone grafting — bone screwed in place. This bone can be your own or from a tissue donor
5. titanium mesh– bone particle placed under a titanium cage
6. Bone plating which is similar to block grafting
7. Nerve repositioning-moving the nerve under the lower jaw out-of-the-way to make room for dental implants
8. sinus lift bone grafting
For this particular patient this was the best solution. He was treated with IV sedation anesthesia and able to sleep through it. Afterwards Tylenol and ibuprofen along with an Arnica Montana supplement for bruising/swelling. An intravenous steroid is also given right before the surgery.
I was able to enhance the bone graft with L PRF ( platelet rich fibrin) which I make from your own blood when I start the IV. The PRF acts as a attractant for growth factors and accelerated healing to the bone graft area.
During any of these major bone grafting procedures it is best to not wear a temporary at all if it is in the back of the mouth. You don't want to have the wound open up, exposing the bone then causing an infection. On these large bone grafts, antibiotics are necessary.
Your comments and questions are welcomed!
Ramsey A. Amin, D.D.S.
Diplomate of the American Board of Oral Implantology /Implant Dentistry
Fellow-American Academy of Implant Dentistry
Burbank California