Diabetes, Dental Implants and Bone Grafts…Is it Safe?
Diabetes, Dental Implants and Bone Grafts…Is it Safe?
You may be reading this because you are at a diabetic in need of an extraction and bone graft or full mouth dental implants. You are probably well aware that diabetes can cause slow healing from dental surgery or any type of surgery. You can be at a higher risk of complications because of being a diabetic.
So how do I do dental implants and bone grafts on diabetics? VERY Carefully!!!
Diabetes affects all organ systems. Big fluctuations in blood sugar cause your healing to be impaired. Diabetics are prone to problems with feet, eyes and kidneys but oftentimes develop periodontal disease/gum disease which has likely led you to this point to read about implants and extractions. I tell all my diabetic patients that you must be extremely diligent in the care of your teeth even more so than someone that does not have diabetes. This is because you are more prone to lose them and replacing teeth with implants is more difficult than your situation… difficult but not impossible.
In these photographs I show two patients that have had similar treatment at the same 7-10 day follow-up. I treated both patients. You can see that the patient that has diabetes that is not well managed is healing much slower than the patient that does not have diabetes. This is not always the case but this is a great example!
Neither one of these patients had bone grafting in addition to the implants they only had four implants placed in the same area for a lower dental implant overdenture. They are both females in their 60's.
You are probably familiar with taking your blood sugar. These numbers need to be as low as possible in the good range. Blood sugar testing should be routine and a very important number called the "hemoglobin A1c" gives me an idea of how well you will heal after a dental implant/bone graft procedure.
Ideally the lower the A1c number the better because that gives me an idea over the last 3 months how stable your blood sugar control is. If the A1c and daily blood sugar readings are high, then perhaps we need to consult with your endocrinologist to get it into better health. Of course your diet and lifestyle have a lot to do with diabetes control. Sometimes just switching meds does the trick while others need to be managed with an insulin pump.
In the weeks prior and at least 4-6 weeks after a dental surgical procedure, try to be as strict is possible with your diet and diabetes control. It is in this critical early-phase that major complications can happen and failures or infections are most likely to happen.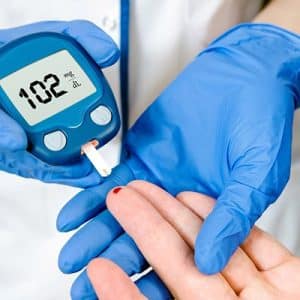 I use some special techniques to try to help my diabetic patients heal as quickly as possible. For the last 14 years or so, I have used the patient's own blood to make special concentrated versions that carry growth factors, which aid in the healing process. Also a strict aseptic/sterile technique of placing implants, bone grafts helps reduce your chance of infection by having a very clean environment to start with. Antibiotics are almost always necessary often in the IV and given by mouth for 7-10 days afterwards and occasionally longer.
Keep in mind that some implants and bone grafts are **far more** complicated than others. The more complex the situation, the higher the risk of having some sort of complications. For example, full mouth dental implants and block bone grafting is more complex than a single socket graft.
I would suggest that you work with a very skilled and experienced provider who has done hundreds of implants successfully on diabetics to figure out what is right for you. Be very open and honest with your implant dentist so you can safely treated and have it done right the first time. You can be succesfully treated! Type 2 diabetes is better than Type 1 but both can be treated. You must be managed a bit differently to prevent implant failure and bone loss.
Ramsey A. Amin, D.D.S.
Diplomate of the American Board of Oral Implantology /Implant Dentistry
Fellow-American Academy of Implant Dentistry