3 Myths About Tooth Implants -Pain, Expense and Time – Burbank Dentist Explains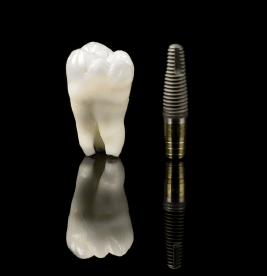 3 Myths About Tooth Implants -Pain, Expense and Time – Burbank Dentist Explains
Dental tooth implants have been in use for more than 40 years! Even though they are quite common, there are three "myths" that I hear potential patients describe all the time.
1. Dental implants are painful!
2. Dental Implants are expensive!
3. Dental implants take a long time!
1. Dental implants are painful!
FALSE! In my more than a decade of placing dental implants, most of my patients say, "that was much easier than I thought!
There are three things that will predict whether this procedure will hurt.
The ease or difficulty of your unique situation is first. The second factor is your ability to heal well. And third, the skill and training of your implant dentist.
Pain should not be a factor in your decision making process. Choose the treatment that will give you the best result. Although I do write narcotic prescriptions such as Vicodin, most of my patients end up just using tylenol and/or advil. IV sedation is highly recommended as it will reduce post-operative pain too!
2. Dental implants are expensive!
FALSE! Dental implants do not cost much more than an average 3 tooth bridge! In my office in Burbank, the cost is almost identical. The long-term cost for having an implant versus a bridge is much lower, since a bridge will be replaced every 7 -15 years. Your dental implant will most likely never need to be replaced!
If you have a bridge, your adjacent teeth will be irreversibly ground down into little nubs. This fact alone is worth it.
3. Dental implants take a long time!
FALSE! Having an implant usually takes 2 – 4 months on average. A bridge takes 3 – 6 weeks.
It is a short term sacrifice for a long term benefit!
Bone by nature, takes a while to heal. Have you ever broken a bone and had to wear a cast? I'm sure you had to wear it for a several weeks! The bone around a newly placed implant has to mend, just like the bones in your arm would have to.
A bone graft, may or may not extend the amount of time it takes for healing.
In my Burbank office, you will always have a temporary tooth! You don't have to walk around with missing teeth during the process!
Here what my patients have to say: Burbank Dentists Video Testimonials